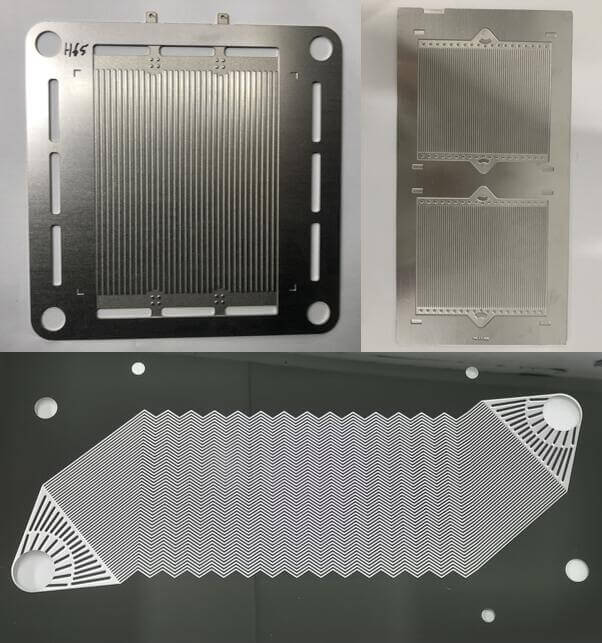 Custom Fuel Cell Bipolar Plate of Photo Etching Technology
The fuel cell bipolar plate is mainly used for the internal devices of the fuel cell. A fuel cell is a chemical device that directly converts the chemical energy of the fuel into electrical energy, also known as an electrochemical generator. It is the fourth power generation technology after hydropower, thermal power generation and nuclear power generation. Because the fuel cell converts the Gibbs free energy in the chemical energy of the fuel into electrical energy through an electrochemical reaction, it is not limited by the Carnot cycle effect, so it has high efficiency; in addition, the fuel cell uses fuel and oxygen as raw materials, and at the same time There are no mechanical transmission parts, so it emits very little harmful gas and has a long service life. This shows that from the perspective of energy conservation and ecological environment protection, fuel cells are the most promising power generation technology.
A fuel cell is usually composed of an electrolyte plate forming an ion conductor, a fuel electrode (anode) and an air electrode (cathode) arranged on both sides, and gas flow paths on both sides. The function of the gas flow path is to make the fuel gas and air (oxidant) Gas) can pass in the flow path. Among them, the fuel bipolar plate plays a vital role. TMN has produced many different types of fuel bipolar plates with different designs. The main material is stainless steel 316L, titanium material with thickness from 0.15mm to 2.0mm, etching through and half etching are all available.
The advantages of bipolar plate fuel cell
The usage of fuel cell bipolar plate :
Description of Custom EMI/RFI Shielding
1、Drawings are needed at the format of DWG/DXF/3D file.
2、Production Volume,1800 square meter/day
3、Inspection equipment,Two-dimension inspection machine
4、Packing method ,tape and reel ,blister package .
5、Sample lead time ,3-5 days
6、Industry Standards,ISO 9001: 2015
EMI & RFI Shielding Applications
Sample of EMI & RFI Shielding
We offer EMI/RFI Shielding Blank, Tin-Plated EMI/RFI Shielding Cover, PCB EMI/RFI Shielding Can, PCB EMI/RFI Shielding Can, customized solutions, and more.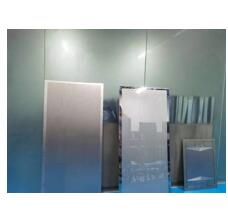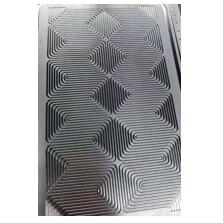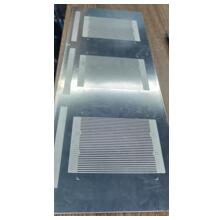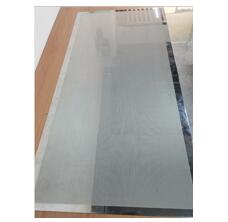 Tin-plated EMI/RFI shielding cover
PCB EMI/RFI shielding can
PCB EMI/RFI shielding can